PRT Calc
Free Download
Manual - Download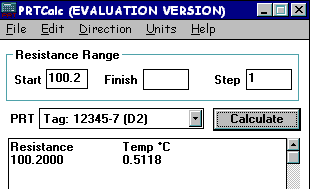 PRTCalc is a utility for those involved with PT100 platinum resistance thermometers. It allows for the accurate conversion of resistance to temperature or temperature to resistance. PRTCalc is a small utility which can sit on the desk top alongside other applications. The calculated results can easily be imported to spreadsheets or other applications for presentation, storage or whatever.
PRTCalc conforms with IEC 751 Amendment 2: December 1995. PRTCalc also knows the values for the earlier issue of IEC 751.
The user may enter custom coefficients to suit individual probes. Probe specific calculations can then be performed with all entered data available stored alongside a tag name for the platinum resistance thermometer supplied. Output data can also be saved as a text file.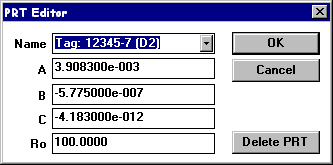 PRTCalc is available for Windows

PRT Calc Features

Can Generate Large Tables or Single Values

Convert Temperature to Resistance with high accuracy

Convert Resistance to Temperature to approx. 0.01C

Allows very large lists of data

Output Can be Saved as a text file

Allows marking and copying of result data

Stores coefficients for user entered probes

Probe Management.

Unit Choice - Celsius, Fahrenheit or Kelvin


Manual - Download

[ Home ]