PRT Calc
The Pt100 platinum resistance thermometer utility
Version 1.03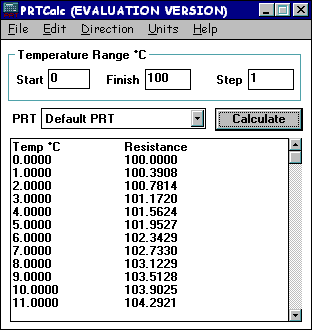 PRTCalc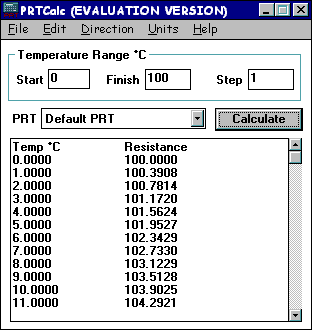 PRTCalc is a utility for those involved with PT100 platinum resistance thermometers. It allows for the accurate conversion of resistance to temperature or temperature to resistance. PRTCalc is a small utility that can sit on the desk top alongside other applications. The calculated results can easily be imported to spreadsheets or other applications for presentation, storage or whatever. PRTCalc conforms to IEC 751 Amendment 2: December 1995. PRTCalc also knows the values for the earlier issue of IEC 751. The user may enter custom coefficients to suit individual probes. Probe specific calculations can then be performed with all entered data available stored alongside a tag name for the platinum resistance thermometer supplied. Output data can also be saved as a text file.
Features
Can Generate Large Tables or Single Values
Convert Temperature to Resistance with high accuracy
Convert Resistance to Temperature to approx. 0.01°C
Allows very large lists of data
Output Can be Saved as a text file
Allows marking and copying of result data
Stores coefficients for user entered probes
Probe Management.
Unit Choice - Celsius, Fahrenheit or Kelvin
Installing PRTCalc
1, Make a new directory, e.g PRTCALC2, Copy the two files Prt103.exe and Prt103.tab to the new directory3, Make a short cut to Prt103.exe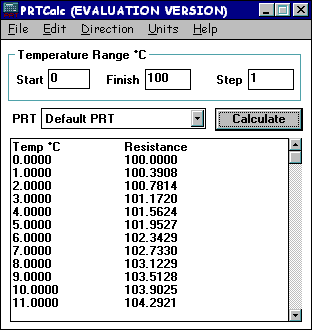 Using PRTCalc
Unit Selection
Select °C, °F or Kelvin from the Units menu
Direction
Choose between calculating from resistance to temperature or temperature to resistance from the Direction menu.
Copy to Clipboard
Use the Edit menu to copy data to the clipboard, the data can then be pasted for example into a spreadsheet to produce a graph
Saving Data
The output can be saved form the FILE menu, Save As the output is saved as a .txt file
Entering coefficients
From the File menu select Open PRT Editor Enter a reference name in the Name box.You can now enter coefficients for either a unique temperature probe typically from a certificate of calibration.PRTCalc is supplied with two sets of coefficients pre-entered. The default is for IEC 751 Amendment 2: December 1995. The other option, PRE-ITS90 is for the values specified in IEC 751 prior to the Dec 1995 amendment.After entering new values you must save them with the Save PRT List option from the File menu
Entering Data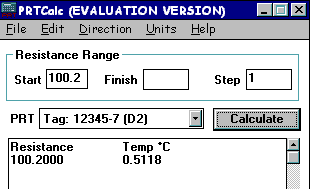 Simply type the start value in the start box, the end value in the finish box and the increment or step in the step box.If you wish to calculate single values rather than a range of values then leave the Finish box empty.
Sample Conversion Data
Temperature to Ohms





Ohms to Temperature

Temp °C

IEC Table

PRTCalc





IEC Table

PRTCalc

-200

18.52

18.5201





18.52

-200

-150

39.72

39.7232





39.72

-150.008

-100

60.26

60.2558





60.26

-99.9897

-50

80.31

80.3063





80.31

-49.9906

0

100

100





100

0

50

119.4

119.3971





119.4

50.0075

100

138.51

138.5055





138.51

100.0119

150

157.33

157.3251





157.33

150.013

200

175.86

175.856





175.86

200.0109

250

194.1

194.0981





194.1

250.0052

300

212.05

212.0515





212.05

299.9958

350

229.72

229.7161





229.72

350.0111

400

247.09

247.092





247.09

399.9942

450

264.18

264.1791





264.18

450.0026

500

280.98

280.9775





280.98

500.0075

550

297.49

297.4871





297.49

550.0088

600

313.71

313.708





313.71

600.0062

650

329.64

329.6401





329.64

649.9996

700

345.28

345.2835





345.28

699.9887

750

360.64

360.6381





360.64

750.0062

800

375.7

375.704





375.7

799.9866

850

390.48

390.4811





390.48

849.9962
Tips

1, You can run multiple copies of PRTCalc simultaneously allowing the ability to see the effects of different coefficients or for multiple thermometers.

2, If you wish to calculate single values rather than a range of values then leave the Finish box empty.

[ Home ]